Complex personal injury claims are packed with valuable data. It comes in the shape of medical documents, records, x-rays, notes, and police reports associated with every claim. This data is critical to settle the injury and better understand the customers and business.
However, structuring and analyzing such massive amounts of unstructured data will take time and effort.
This post will dive deeper into how AI revolutionizes insurance companies' evaluation of personal injury claims. We will explore the current implications of this technology and what we expect in the coming years. We will highlight some key benefits of using AI in claims management, such as reduced processing times, improved accuracy, and better customer and business insights.
It all starts with data
Every claim is full of data. Insurers are generally good at structuring some of it, like the claimant's personal information and claim history. But that is only the tip of the data iceberg.
Claims handlers are today forced to extract and evaluate information from a range of different structured and unstructured data types and spend a significant amount of time on this mundane activity. We need to think about augmenting them in their day-to-day life.
That's where Intelligent Document Processing (IDP) comes into the picture. It uses deep learning algorithms and optical character recognition (OCR) technology to extract data quickly and semantically from documents.
Extracting and collecting this data builds an invaluable asset for insurers.
AI in action
Now let's look at four use cases on how insurers can use artificial intelligence in personal injury claims.
1. Process automation
The modern customer has high expectations of their insurance company, and the claims process is commonly seen as the moment of truth. It is where the customer will realize if the insurer lives up to their expectations or not.
One area where AI can assist insurers is automation. Claims can range from minor injuries to severe trauma, requiring a different level of attention.
Sometimes the customer only wants their payment as soon as possible; in other cases, they want to talk to someone to get empathy and ensure they understand every detail of the situation.
Minor claims can be automated entirely
Mid-advanced claims can be adjusted by a claims handler supported by technology
Complex claims must be reviewed by a doctor
Automating this and automatically categorizing each claim to one of these processes would mean substantial time savings for many insurers.
With access to the right data, Mavera's Decision Support System (DSS) can simplify the process. The system automatically directs straightforward claims for automated processing and assigns more complex claims to the appropriate claims handler or medical advisor.
This use case also applies well to health insurance, where insurers receive many caregiver requests to assess. By utilizing AI, insurers can process and manage these requests more effectively, saving costs and providing better customer care.
2. Reading up on claims 3x faster
Claims handlers and medical advisors often spend many hours organizing and reading claims documentation to understand the injury. Using IDP and other AI technologies to categorize and summarize all this information automatically is a complete game changer.
Mavera has developed an IDP model specifically trained to understand medical records. The system scans the documents and presents the information in an augmented case view, including:
An enriched timeline of medical events

All documents are automatically categorized and structured in a library

A visual illustration of the body showing where an injury occurred
It enables the claims handlers to overview it three times faster.
Check out the video for a quick video on the augmented case view in Mavera DSS.
3. Decision support
The next use case is what we call decision support. Having an AI assistant working together with the claims handler, highlighting what to investigate further and suggesting the settlement for claims.
AI is extremely good at searching through large amounts of data, recognizing patterns, and making predictions. This capability can, for example, be utilized to evaluate the long-term effects of disability after an accident.
The accuracy of the predictions is directly proportional to the amount of relevant data available, and as a result, the use cases will evolve.
Initially, predictions can serve as suggestions or warnings if claims handlers make decisions that differ from those made in previous claims, making the decisions more accurate and harmonized.
With more training, the predictions can automatically set precise reserves.
Ultimately, the automation of more claims assessments becomes feasible, enabling even faster and more accurate claims settlements.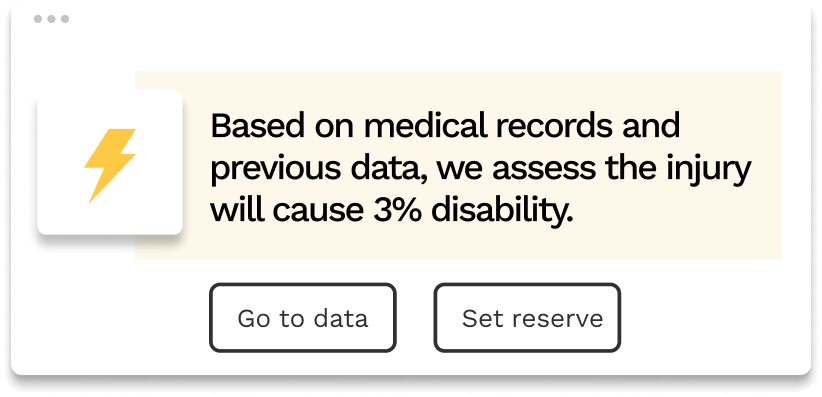 4. Business insights
With more structured data at hand, insurers will also gain deeper insights into their business and customers.
Analyzing data from past claims, insurers can identify patterns and trends to, for example, calculate the likelihood of certain types of accidents or injuries.
This can be used in risk assessments to set premiums, determine policy terms, or identify frauds.
A more data-driven claims process will also be more transparent, making it easier to find bottlenecks and potentials for optimizations.

Summary
There are already several use cases for AI in personal injury claims, and there will be enormous benefits for those who implement it.
Reduced processing times: AI can automate and streamline processes, allowing insurers to process claims faster and more efficiently. For instance, AI can automatically categorize claims by severity and direct them to the appropriate claims handler or medical advisor.
Improved accuracy: AI can analyze large amounts of data quickly and accurately, reducing the risk of errors and improving claims outcomes. For example, AI can be used to analyze medical records to identify patterns and help the claims handler settle the claims more accurately.
Better business and customer insights: AI can help insurers better understand their customers and business, allowing them to improve customer satisfaction and identify areas for growth. For instance, AI can be used to analyze claims data to identify trends in injuries and develop new insurance products or services.
Mavera is an insurtech company focusing on improving personal injury claims with AI. Reach out and let us show how our decision support system can help you.